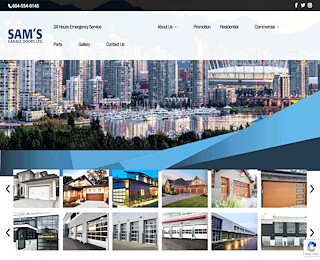 Tip For Finding a Provider of Quality Garage Doors in Greater Vancouver:
Tip #1: Ask around your community within your circle of friends or colleagues to find a service provider that offers a quality product. If you're unable to get a personal referral, consider taking your research to the Web and look into online directories for testimonials and reviews about products in your area. You'll find there are several great sites that offer unbiased reviews, more or less. In the event that you're not already using a directory, try Angie's List, Google, or Yelp. Type Sam's Garage Doors into the search bar to see what others have to say about their residential and commercial garage doors. Greater Vancouver has made us a household name over the last 30 years.
Tip #2: Add our website to your short list of prospective companies and see how we measure up to the competition. At Sam's Garage Doors, we are proud providers of quality products and highly skilled installation services. Whether you're simply in need of a repair by way of a replacement part or component, or are looking at your options for a new installation, we can help. We are proud suppliers of LiftMaster door opening systems that are guaranteed to meet your expectations in lifespan and function. Call one of our specialists to discuss your residential or commercial needs and let us find the right system for your requirements.
Tip #3: Reach out to your prospective company by phone or by email to find out whether they are serious about meeting your needs. Have your list of questions in hand when speaking to a company rep by phone and listen to hear how they respond to each question. A reputable service provider will want to make certain they answer your questions in full. Call us at 604-554-0145 and see why we are known throughout the community as the gold standard in garage doors in Greater Vancouver. At Sam's Garage Doors, we don't just sell and install new garage door opening systems, we provide a range of service options by our fully trained technicians. We know your system will benefit from an annual cleaning, adjustment and lubrication, so call us to find out more.
Preventative maintenance is the #1 way to prolong the life of your garage door opening system and ensure seamless operation from season to season. Our maintenance plan is the most cost-effective way to ensure our techs can keep your system functioning year after year while catching small issues early on. You'll avoid costly and inconvenient breakdowns by having us look at your system once a year to apply lubrication, make small adjustments, and look for potential problems that may come up later on. You'll find it an affordable service that saves you money over time.
Call us at Sam's Garage Doors in Greater Vancouver at 604-554-0145 to request a quote for service, or discuss your needs for a new installation. We are dedicated to providing exceptional customer service.
Garage Doors Greater Vancouver
Sam's Garage Doors
6045540145
551 Sherling Pl, Port Coquitlam, BC V3B 0J6
View Larger Map