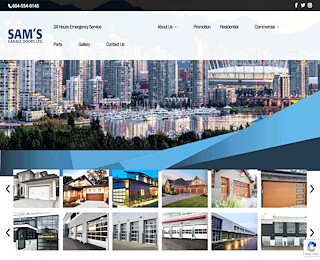 Why Call Us For Your Garage Door Installation in Greater Vancouver:
One word- reliability. At Sam's Garage Doors, we are considered one of the most reputable companies in the area when it comes to replacing and installing garage door opening systems. Whether your old system has out-lived its usefulness or you're looking into a new installation for your home or business, our technicians have the knowledge and skill to ensure your 100% satisfaction from start to finish.
We've been serving the local community for more than 30 years with reliable repairs and new installations of quality products. Our techs are trained to work on all makes and models of existing garage door openers, so you can call us with the confidence that we can fix almost any system. In the event that your garage door opening system is unable to be repaired, your technician will recommend a replacement that will both meet your needs and fit your budget. We proudly supply, install, maintain and work on LiftMaster systems as one of the most reputable names in the industry.
Our customers love the wide range of options available to them when they select a residential LiftMaster grade door opener. You'll find that LiftMaster is more durable than any other product that is currently available on the market today. If you're thinking about a new garage door installation in Greater Vancouver, give us a call with your questions and concerns and we'll recommend a model that offers superior performance in your home. LiftMaster is considered the safest system being made today.
If you own a business in the Greater Vancouver area and are looking at your options in a commercial system, our LiftMaster industrial systems are designed to meet a variety of needs and can be customized through additional accessories. These systems can be configured to suit just about any commercial site requirement. See our product inventory on our website or call one of our specialists at 604-554-0145 if you'd like to know more about these products.
At Sam's Garage Doors, we do not believe in offering our customers lower quality for the simple fact that poor quality results in higher costs down the line when it comes time to start replacing components and parts. We'll ensure you get the right system installed the first time around, so you can experience many years of seamless function and performance in your home or business.
Should you require emergency 24-hour assistance, our techs will be there to maintain the security of your building and provide a timely repair at an affordable price. Since your garage door is a second point of entry into your building, we take every urgent phone call seriously and strive to dispatch a technician as quickly as possible. Call on us for quick repairs, full maintenance to your system, or new garage door installation in Greater Vancouver. You won't find a company more dedicated to your satisfaction than our team at Sam's Garage Doors.
Garage Door Installation Greater Vancouver
Sam's Garage Doors
6045540145
551 Sherling Pl, Port Coquitlam, BC V3B 0J6
View Larger Map