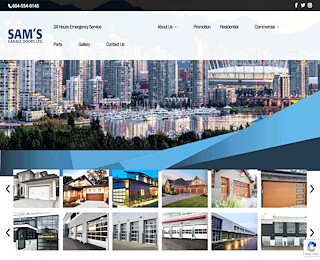 Who to Call For a Commercial Garage Door Installation in Vancouver:
Local businesses trust us with their commercial garage door installation throughout Vancouver and beyond for one simple reason- at Sam's Garage Doors, we are dedicated to excellence and committed to delivering the results our clients expect. If you're looking into a garage door opening system for your place of business, we highly recommend looking at our quality products. We supply and install industrial LiftMaster door opening systems that are custom built and designed to meet the needs of a wide range of businesses. Through the use of accessories and custom components, we can ensure a custom fit that uniquely meets the needs of your business.
Call us to request an estimate for your warehouse, firehouse, storage unit, rec facility, car wash or any other industrial building and we'll make you feel like you're the only client on our itinerary. Our technicians are highly knowledgeable in product installations and repairs, so feel free to call us with your questions and concerns. We'll do our best to direct you to the product we feel will best fit your requirements. A few things to keep in mind when considering your commercial garage door installation in Vancouver are: aesthetic appeal of the system, dock loading capabilities, speed of the system, durability, security, strength, energy costs involved, noise level, and function. We'll be happy to discuss all of these with you when you give us a call.
For more than 30 years we have been meeting the needs of the Vancouver community with quality products installed by our professionals- and we have a long and growing list of satisfied clients who love to talk about our services. One of the reasons we have been able to provide such a high level of satisfaction rests with the fact that we choose to install quality door opening systems made from high-grade materials. This keeps repair and maintenance costs down for our clients.
When you choose an installation company that only works with quality products, you'll find your investment will go far, which is certainly the case with our LiftMaster garage door opening systems. Paying less up-front may seem like a better option at the time, until repairs are needed after only a few months of service. We'd prefer to install a system that will provide you with many years of flawless function before you'll need anything worked on. You'll achieve this by calling on our techs for annual maintenance that includes lubrication, adjustment, and service to your system.
Please give us a call at 604-554-0145 to discuss your needs with one of our techs. We have a great selection of products geared toward meeting your business goals while keeping you in budget. You can request a fast and free quote over our website or by phone. Click out 'Products and Accessories' link on the home page to find out why our products are considered the gold standard in garage door opening systems.
Commercial Garage Door Installation Vancouver
Sam's Garage Doors
6045540145
551 Sherling Pl, Port Coquitlam, BC V3B 0J6
View Larger Map